Cineplex: Tuesday Prices Everyday Next Week (Aug 31 – Sept 4)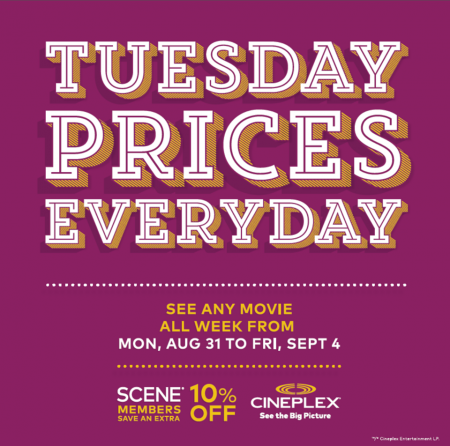 Cineplex will be offering Tuesday prices everyday all next week! See any movie all week from Monday, August 31 to Friday, September 4, 2015 for cheap! Tuesday discounted pricing will apply to tickets for all movies and all experiences (3D, AVX, IMAX, VIP, D-Box). You can also save an extra 10% off if you`re a Scene Member.
The offer is available online now for ticket purchases for movies showing Aug. 31 through Sept. 4. Purchase your tickets online now and secure the discounted pricing and skip the box office line-ups.
Click here to visit Cineplex`s Facebook page for more details.
Click here to visit Cineplex`s website to find a theatre near you.