McDonald's: New Digital Coupons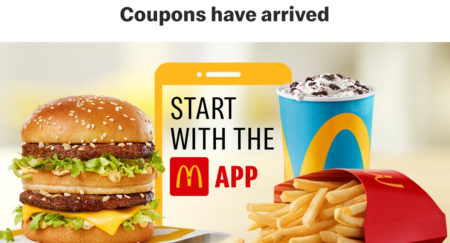 McDonald's Canada just released new coupons!
Your favourite coupons are back! Enjoy another season of savings right from the McDonald's App (iOS or Android). The coupons vary by province, and should be available now until June, 2021. You should have received coupon book in the mail or can access them through McDonald's mobile app.
The coupon's vary by province, but typically include the following:
2 Can Dine Coupon
Meal Deal Coupon
Buy One, Get One Free Coupon
2 Can Dine Breakfast Coupon
Breakfast Meal Deal Coupon
Plus lots more
The McDonald's coupons you love have moved from our website into the palm of your hand,
with the McDonald's app. You can redeem coupons at the Drive-Thru, using Curbside Service,
at the Front Counter or Kiosk, or when ordering ahead on the app. Or, scan the paper coupons at the restaurant to redeem.
Click here to visit McDonald's website for more information.