McDonald's: New McDonalds Coupons (Until June 11)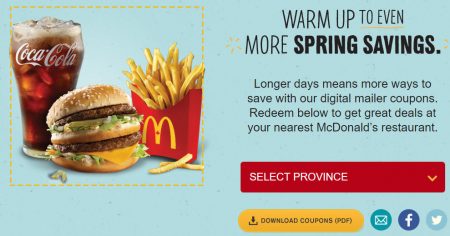 McDonald's Canada just released new coupons!
Your favourite coupons are back! Enjoy another season of savings right from your mobile phone or print them at home. The coupons vary by province and are valid now until June 11, 2017.
You can get the coupons by downloading McDonald's mobile app (iTunes App Store or Google Play), or you can print them the old fashion way from McDonald's website. I find it more convenient to download McDonalds App and display the coupons on your smartphone instead of having to manually print and cut the coupons. Plus, you'll also get exclusive offers every week on the 'My McD's' mobile app.
The coupon's vary by province, but typically include the following:
2 Can Dine Coupon
Buy One, Get One Free (BOGO) Coupon
One Can Dine Coupon
Meal Deal Coupon
Breakfast Deal Coupon
Happy Meal Coupon
Plus lots more
Here's the coupons by province:
Click here to visit McDonald's website for more information or to download the coupons.