Swiss Chalet: 2 Can Dine Bonanza (Aug 22 – Sept 5)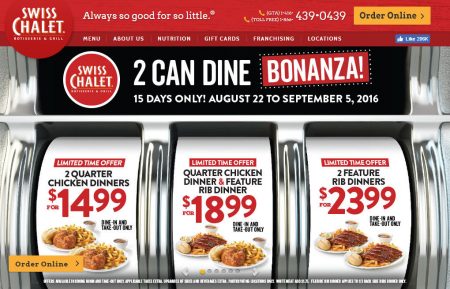 Swiss Chalet is having a 2 Can Dine Bonanza!
For a limited time, enjoy the following 2 Can Dine offers:
2 Quarter Chicken Dinners for $14.99
2 Quarter Chicken Dinner & Feature Rib Dinner for $18.99
2 Feature Rib Dinners for $23.99
The offers are avaiable for dining room and take-out only from August 22 to September 5, 2016.
White meat add $1.75 per entrée. Upgrade of sides and beverages extra, No coupon necessary. Not valid in combination with any other offer.
There's also a Delivery Meal Deal – Enjoy 2 Quarter Chicken Dinners + Appetiser for $19.99.
Click here to visit Swiss Chalet's website for more details.
Click here to find a Swiss Chalet Restaurant near you.