PUMA.ca: Private Sale – Save up to 75% Off + Free Shipping All Orders (Aug 2-3)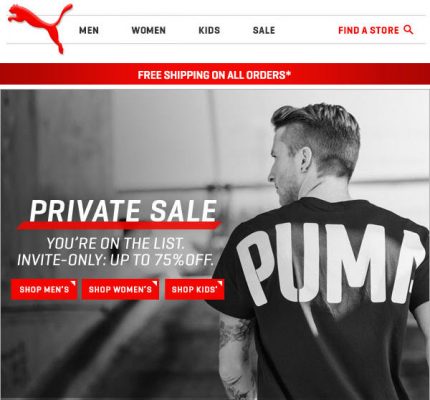 PUMA.ca is having a Private Sale!
Save up to 75% off on Men's, Women's and Kid's styles + free shipping on all orders! The 2-day private sale is available online-only from August 2-3, 2016.
Since it's a private sale, you won't find the sale advertised anywhere on Puma.ca. You can access the Invite-only Private Sale by clicking on any of the links in this blog post.
I browsed around and there's over 1,000 items available and lots of amazing deals. The prices displayed online will reflect the sale price. No promo code required. Note: Prices are in USD.
PUMA is also offering free shipping on all orders orders during this sale.
Click here to shop PUMA.ca now or for more details about the sale.