Harlem Globetrotters Game: $46 for a Ticket on April 17 at 2 p.m. ($76 Value)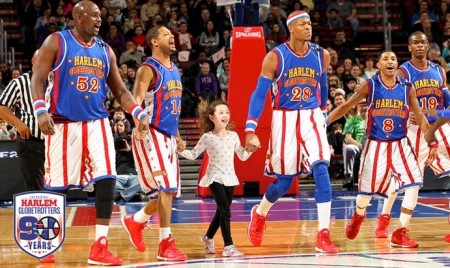 Today's Groupon Winnipeg Daily Deal of the Day: Harlem Globetrotters Game: $46 for a Ticket on April 17 at 2 p.m. ($76 Value)
Buy now for only $
46
Value $76
Save $30
$46 for one G-Pass for seating in sections Floor-North and Floor-South (row 2) and sections 104, 107, 117, and 120 (rows 3–7) (up to $76 value)
$61 for one Magic Pass, plus one G-Pass for seating in the above sections (up to $101 value)
Magic Passes grant access to a special 30-minute exhibition of tricks and hands-on basketball fun with the players from 12:30 p.m. to 1 p.m.; pass holders also get the chance to meet the Globetrotters and their mascot, Globie. Parents/guardians and children need both a Magic Pass and game ticket in order to enter the arena early. Purchase the same G-Pass/Magic Pass option for everyone in your group to ensure that you will sit together.
How G-Pass Works: Your G-Pass will be ready to print 48 hours after the deal ends. Print the G-Pass and use it to enter the venue directly; you won't need to redeem at will call. Due to security restrictions, G-Passes cannot be redeemed through the Groupon mobile app. Discount reflects the merchant's current ticket prices – price may differ on day of event.
This is a
limited time offer
while quantities last so don't miss out!
Click here to buy now or for more details about the deal.
In a Nutshell
Ball-spinning antics abound as this world-famous exhibition basketball team dazzles in a comic and athletic performance
The Fine Print
Promotional value expires Apr 17, 2016. Limit 8 per person. Valid only for option purchased. Use for admission at MTS Centre on 4/17/16. Refundable only on day of purchase. Must purchase together to sit together. Merchant reserves the right to substitute closer seat assignment. Holder assumes all risk in connection with the event and releases Groupon, Globetrotters, the venue and their affiliates from any related claims. Not redeemable on mobile app. Ticket value includes all fees. Merchant is solely responsible to purchasers for the care and quality of the advertised goods and services.
Harlem Globetrotters
http://www.harlemglobetrotters.com/
300 Portage Ave.
Winnipeg, MB R3C 5S4
+15032340738
This season, the Globetrotters will celebrate their 90th anniversary the only way they know how: with a jaw-dropping blend of athletic precision and razzle-dazzle showmanship that has entertained hundreds of millions of fans over the past nine decades. Throughout the team's lengthy tour, a rotating roster of Globetrotter favorites—including a pair of female players—will take to the hardwood each game. Spectators might spot veteran guard TNT sharing a behind-the-back pass with dunker Thunder, who also holds the world record for longest basketball shot at 109 feet and 9 inches. The Globetrotters might also present a study in contrasts with 5-foot-2 Too Tall and 7-foot-4 Stretch, the team's tallest member.
Each game gives the Globetrotters' jovial jocks a chance to extend their decades-long dominance, all while new generations of fans laugh along and witness classic routines of unconventional passing and sudden transmutations of water into confetti. Over the years, similar antics have followed the Globetrotters around the world, including to 122 countries and territories and all six continents on which basketballs grow naturally. The Globetrotters' extensive travels haven't gone unnoticed: they're one of the few teams to earn a spot in the Naismith Memorial Basketball Hall of Fame as ambassadors of the sport.
Click here to buy now or for more information about the deal. Don't miss out!