Toys R Us: Free Play Day Family Event (June 20, starting at 11am)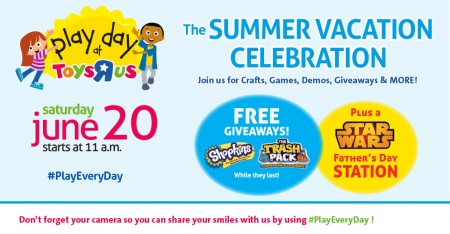 Toys R Us' popular "Play Day – Summer Vacation Celebration Event" is back this Saturday, June 20, 2015 starting at 11am local time. Visit your local Toys R Us store for exciting games, crafts, activities, demos and free give-aways!
STAR WARS FATHER'S DAY STATION
May the Force Be With You! Come face off for a Father-Daughter and Father-Son lightsabers pose, build Star Wars Folded Flyers with Klutz, and some more Star Wars family fun.
HASBRO GAMES STATION
Square off against friends with Jurassic World dinosaurs and Minions games!
DOH VINCI CRAFT STATION
Get crafty with our Doh Vinci Make N' Take! Kids can bring home their creative artwork to proudly show to friends and family. While supplies last.
PAW PATROL STATION
Paw Patrol is on a roll! Kids can come play with their favourite characters from the popular show and take some time to get creative with Paw Patrol activity sheets.
PLAY & DISCOVER STATION
Play with the new MiPosaur and see its cool tricks, then discover this season's hot outdoor toys with Firetek and Zombie Slayers! Learn about what makes these toys super cool and fun for summer!
No purchase necessary. Recommended for kids ages 3+. While quantities last! Excludes the Cedarbrae Mall location & Express stores. Activities may vary by store.
Click here to visit Toys R Us' website for more details.
Click here to shop Toys R Us online.
Click here to find a Toys R Us Store near you.