Groupon Goods: Mystery Promo Code Sale (Until June 24)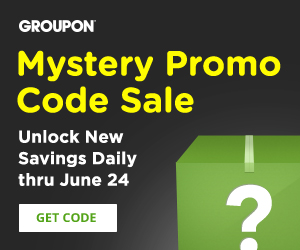 Groupon.com is having a Mystery Promo Code Sale! Unlock new savings daily thru June 24, 2015 on deals featured on Groupon Goods/Products.
Here's a preview of each deal:
Monday, June 22: Enter promo code ACTIVE15 to save 15% off Activewear Goods
Tuesday, June 23: Enter promo code MOBILE10 to save 10% off Cell Phone & Acessories
Wednesday, June 24: Enter promo code SHINE15 to save 15% off Jewerly & Watches
You can also enter the promo code GOODS5 to save 5% off any deal featured on Groupon Goods. There's no minimum purchase with a maximum savings of $50.
Click here to shop Groupon Goods now or for more details about each sale.