YWG Deals: Truly Amazing Flight Deals from Winnipeg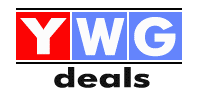 Most of you are probably familiar with Chris Myden and his Winnipeg travel blog YWGdeals.com. If you're not, you're in for a treat! Chris Myden is a passionate travel junkie who is hooked on finding the best flight deals.
Chris doesn't post flight deals very often, but when he does, you know it's a truly amazing deal. You have to act fast as most of the deals tend to sell out very quickly after he posts them on his site. The best way to be alerted of all the deals is to sign-up for his mailing list so you're first to know about the deal and can take advantage before it sells out.
You should also check out YWG Deals' "Ultimate All-Inclusive Deal Finder". It'll help you save time and money by analyzing millions of all-inclusive deals and comparing them to their TripAdvisor reviews to determine the best value (best price vs quality) for your money.
If you're not already on YWG Deals' mailing list, I highly recommend you visit YWGdeals.com and sign-up now. You're going to be blown away by the incredible flight deals Chris somehow manages to find. I have booked many of the flights posted on Chris' blog and have saved a lot of money over the years.
Click here to visit YWGdeals.com now for more details.