HOT DEAL: Wine Sense – $93 for 1 Vintners Reserve Wine Kit & a Wine Sense Econo Starter Kit – 6 Locations (50% Off)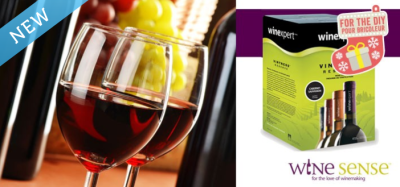 TeamBuy Winnipeg Hot Daily Deal of the Day: Wine Sense – $93 for 1 Vintners Reserve Wine Kit & a Wine Sense Econo Starter Kit – 6 Locations (50% Off)
Buy now for only $
93
Value $186
Discount 50% Off
Save $93
Give someone a bottle of wine and they'll drink for a night. But teach them how to make their own and they'll be set for months! Get in on today's TeamBuy DIY wine-making deal: $93 for 1 Vintners Reserve Wine Kit & a Wine Sense Econo Starter Kit from Wine Sense ($186 Value).
Highlights
Perfect for beginners or those who have made their own wine before.
Available at 6 convenient Winnipeg and Brandon locations.
Choose from reds, whites, and special blends.
Perfect Christmas gift idea!
Makes a great activity for couples or those looking to for a new hobby.
This is a limited 1-week only sale that will expire at midnight on Sunday, December 15, 2013.
Click here to buy now or for more info about the deal. Quantities are limited so don't miss out!
Buy Details
Includes 1 vintners reserve 10L wine kit, 30 litre primary fermentor with lid, 23L PET carboy, airlock and stopper, syphon, spoon, test jar, sanitizing agent, how to DVD, information sheets, free filter rental voucher, free corker rental voucher and a $20 cash card for your next wine kit.
Makes 30 bottles of 750ml wine.
Max 1 per person, unlimited as gifts.
Valid at 1 of 6 Wine Sense locations, please select at checkout. Only valid at chosen location.
Tax not included. Cannot be redeemed before Dec. 15, 2013.
Expiry Date: August 19th 2014
Wine Sense
http://www.mywinesense.com/
Multiple Locations
Available at six Wine Sense locations across Winnipeg and Brandon areas, today's deal is perfect for individuals looking to break the routine of liquor store shopping, looking for a bottle of wine that may be just mediocre. By purchasing today's Wine Sense deal, you know what you're getting into with every tug of the cork: fresh, homemade wine, just the way you like it. Today's starter kit is perfect for those looking for a new hobby, wanting to perfect their wine-crafting skills, or just want to literally taste the fruits of their labour. Included with today's package is an instructional DVD entitled "I Made This!', which is an easy-to-follow guide that will help you make the perfect wine every time. Hosted by Tim Vandergrift, Technical Services Manager for Winexpert, you'll watch as Julie and Paul make their first wine- and you'll see just how easy it is! Today's kit will kickstart the beginning of a new relationship between you your reds and your whites, preparing them to be savoured by all.
Click here to buy now or for more information about the deal. Don't miss out!