HOT DEAL: Zumba Fitness With Jenn – $29 for a 10 Week Pass to Bellyfit (Save $91 or 76% Off)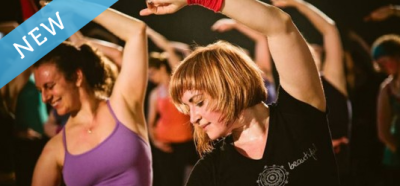 TeamBuy Winnipeg Hot Daily Deal of the Day: Zumba Fitness With Jenn – $29 for a 10 Week Pass to Bellyfit (Save $91 or 76% Off)
Buy now for only $
29
Value $120
Discount 76% Off
Save $91
TeamBuy is featuring a great deal to Zumba Fitness With Jenn today. For only $29, you'll get a 10 Week Pass to Bellyfit! That's a saving of $91 or 76% Off! You may buy 1 vouchers for yourself and unlimited as gifts & the vouchers don't expire until February 7th 2014.
Highlights
Sway to the beat and have a blast as you exercise!
Perfect addition to your fitness regimen.
Maintain a healthy figure while boosting endorphins.
Special method inspired by dance styles from around the globe!
This is a limited 1-week only sale that will expire at midnight on Tuesday, August 6, 2013. Click here to buy now or for more information about the deal. Quantities are limited so don't miss out!
Buy Details
Includes a 10 Week Pass to Bellyfit from Zumba Fitness With Jenn.
Max 1 voucher for personal use. Unlimited as gifts.
Registration is required; please contact (204) 295-9115 for bookings or with any questions. Class times and additional information can be found on their website.
Yoga mat and shoes are necessary for class participation and must be brought by students.
Buyers also receive a 25% discount towards your next session if you purchase during your classes.
Classes start September 21, 2013.
Tax not included.
Cannot be redeemed before August 07, 2013.
Expiry Date: February 7th 2014
Zumba Fitness With Jenn
http://www.zumbawithjenn.ca/
(204) 295-9115
183 Morley Ave
Winnipeg, Manitoba, R3L 0X9
Strengthen your muscles and breathe new life into your boring routine with some help from the experienced Jennifer Hewitt. Unlock your personal potential and discover your inner fitness guru by incorporating the powerful and life changing practice of health and wellness into your busy life. Bellyfit is a holistic fitness experience for women that blends the power and wisdom of ancient cultures with the research, technology and trends of the modern world. Designed exclusively for the female body, mind and spirit, Bellyfit offers a full body, extraordinary exercise experience in a safe, effective, intelligent group fitness format. Learn cardio moves infused with the ancient and beautiful fundamentals of Belly Dance, Bollywood and African Dance, as well as undertaking Pilates inspired core work, a deep, yet relaxing Yoga inspired stretch and mindful Mudra Meditation, all for amazing results. So go ahead: shake up your body and fitness routine with this opportunity to move & groove your way towards a lean figure you're sure to love!
Click here to buy now or for more information about the deal. Don't miss out!