HOT DEAL: Maxim Muffler and Auto – $44 for a 4-Wheel Alignment for Your Car Including Suspension Inspection, Road Test, Tire Rotation and More (Save $101 or 70% Off)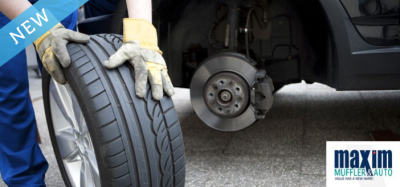 TeamBuy Winnipeg Hot Daily Deal of the Day: Maxim Muffler and Auto – $44 for a 4-Wheel Alignment for Your Car Including Suspension Inspection, Road Test, Tire Rotation and More (Save $101 or 70% Off)
Buy now for only $
44
Value $145
Discount 70% Off
Save $101
TeamBuy is featuring a great deal to Maxim Muffler and Auto today. For only $44, you'll get a 4-Wheel Alignment for Your Car Including Suspension Inspection, Road Test, Tire Rotation and More! That's a saving of $101 or 70% Off! You may buy up to 2 vouchers for yourself and unlimited as gifts & the vouchers don't expire until January 29th 2014.
Highlights
A great option for those who do ample driving or enjoy off-roading.
Helps to make sure your car handles well and cruises smoothly for the road ahead!
Friendly and knowledgeable staff of automotive professionals.
This is a limited 1-week only sale that will expire at midnight on Sunday, July 28, 2013. Click here to buy now or for more information about the deal. Quantities are limited so don't miss out!
Buy Details
Includes 4-wheel alignment for your car with suspension inspection, road test, tire rotation and setting of tire pressure to specified pressure.
Max 2 vouchers for personal use. Unlimited as gifts.
Limit 2 vouchers used per automobile.
By appointment only; please call (204) 775-8862 for bookings.24 hour advance notice is required for cancellation or voucher is voided.
Not valid for taxes.
No cash back or credit.
Not valid with other offers.
Tax not included.
Cannot be redeemed before July 29, 2013.
Expiry Date: January 29th 2014
Maxim Muffler and Auto
http://www.maximwpg.com/home
(204) 775-8862
970 Portage Avenue
Winnipeg, MB, R3G 0R3
At Maxim Muffler and Auto, they understand that the well-being of your car is an important matter that should only be handled by trained professionals. That's why they have a team of trusted and friendly mechanics that will guide you through all your tune-ups and services. With today's deal, your ride will be treated to a helpful 4-wheel alignment, as well as a diligent suspension inspection, a tire rotation and even a road test to make sure your car is prepared to hit the road, all through a single purchase. It's always a good idea to make sure your ride is running smoothly to prevent any costly repairs or maintenance issues down later on, so seize this deal and get ready to cruise the city streets, highway, and even the dirt & gravel road less travelled…with confidence!
Click here to buy now or for more information about the deal. Don't miss out!