HOT DEAL: Brickhouse Gym – $45 for a 3 Month Gym Membership, Plus Access to 3 Group Fitness Classes (Save $135 or 75% Off)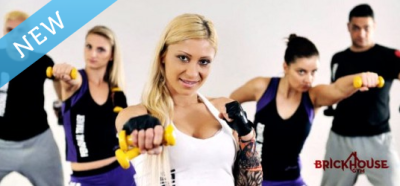 TeamBuy Winnipeg Hot Daily Deal of the Day: Brickhouse Gym – $45 for a 3 Month Gym Membership, Plus Access to 3 Group Fitness Classes (Save $135 or 75% Off)
Buy now for only $
45
Value $180
Discount 75% Off
Save $135
TeamBuy is featuring a great deal to Brickhouse Gym today. For only $45, you'll get a 3 Month Gym Membership, Plus Access to 3 Group Fitness Classes! That's a saving of $135 or 72% Off! You may buy 1 vouchers for yourself and unlimited as gifts & the vouchers don't expire until October 30th 2013.
Highlights
Quality exercise equipment and a range of rewarding fitness classes!
Knowledgeable staff of trainers who help you reach your goals.
The perfect place to focus on getting fit & lean!
24 hour access to the facilities!
This is a limited 1-week only sale that will expire at midnight on Monday, July 29, 2013. Click here to buy now or for more information about the deal. Quantities are limited so don't miss out!
Buy Details
Includes a 3 month membership and access to 3 group fitness classes.
Max 1 voucher for personal use. Unlimited as gifts.
Please call (204) 415-6572 to register or email paul@brickhousegym.ca.
New clients only.
Voucher must be activated within 3 months of purchase. Voucher will then expire 3 months from date of activation.
Valid at the following locations:
425 Century St, Winnipeg, MB; R3H 0X6.
418 Gertrude Ave, Winnipeg, MB; R3L 1Y8.
Please select location at checkout.
Tax not included.
Cannot be redeemed before July 30, 2013.
Expiry Date: October 30th 2013
Brickhouse Gym
http://brickhousegym.ca/
418 Gertrude Avenue
Winnipeg, Manitoba, R3L 1Y8
429 Century St
Winnipeg, manitoba, R3H 0X6
(204) 415-6572
Staffed by a committed and knowledgeable group of trainers & fitness professionals, this gym brings you access to the latest and greatest exercise tools, boasts ample class availability for an encouraging group fitness routine, quality facilities and much more! When you make your purchase, you'll be able to enjoy a 3 month membership to the entire gym, as well as access to up to 3 group fitness classes of your choice. With a range of classes such as Excel Bootcamp to Strength Camp and OutBox, Brickhouse Gym proudly exercises a commitment to offering all clients options for an ever changing regimen that will never grow stale and help lead to terrific results. So discover the ideal spot to get your figure sculpted when you take advantage of this exclusive offer!
Click here to buy now or for more information about the deal. Don't miss out!