Toys R Us: Save 15%-25% Off All Video Games (Nov 16-22)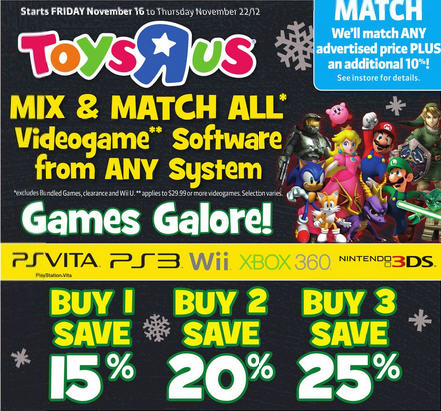 Toys R Us is offering a great mix and match video game sale. You can save 15% off when you buy 1 game, 20% off when you buy 2 games or 25% off when you buy 3 games! The offer applies on all video games priced $29.99 or higher on all video games systems and consoles (Ie. Xbox 360, PS3, Wii, Nintendo 3DS and PSVITA – excludes Wii U). The sale goes until November 22, 2012.
This is a pretty good deal because popular new video games rarely go on sale.
Click here view Toy's R Us online flyer for more details about the sale.
Enjoy! Press the "Like button" at the top of this post if you like this deal and to share it with friends and family.