Symantec – Norton Internet Security for only $4.49 after Promo Codes! (Retails for $79.99)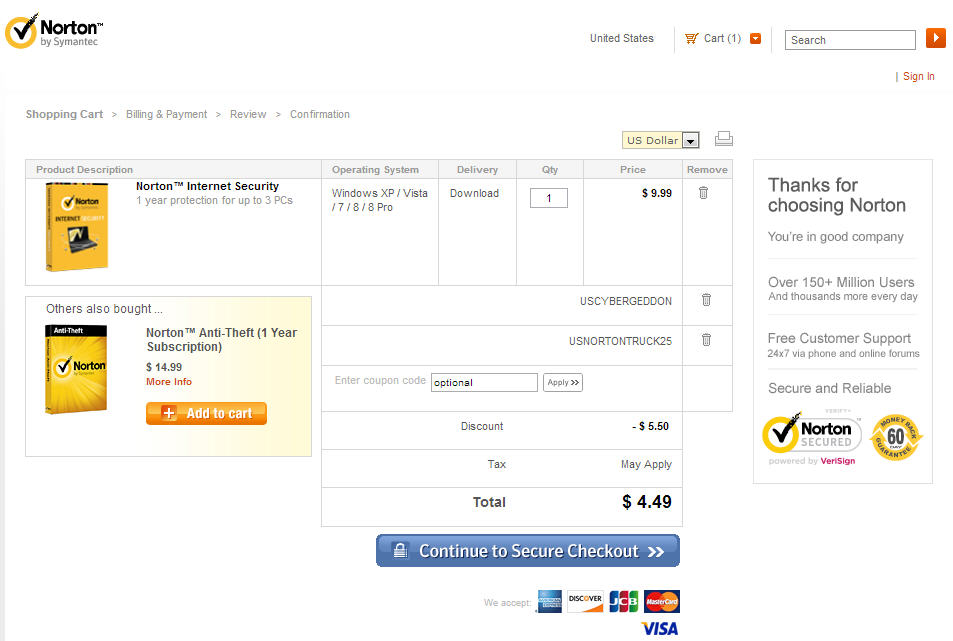 Wow! For a limited time, you can download Symantec's Norton Internet Security for only $4.49! The software normally retails for $79.99, but is on sale for $9.99. You can knock the price down to $4.49 when you enter the promo code's USNORTONTRUCK25 and USCYBERGEDDON at http://buy-static.norton.com/norton/ps/1up_us_en_nav_freeware.html
To get it for $4.49, enter the promo code's USNORTONTRUCK25 and USCYBERGEDDON at checkout and delete Norton Virus Removal Assurance.
Once you complete the checkout, you'll get to download the softwre and install it on your computer right away. The offer comes with 1 year protection for up to 3 PCs!
I saw this incredible deal posted on RedFlagDeals. I just finished installing it on my computer. I don't how much longer this offer will last so take advantage of it while you still can!
Click here to buy Symantec's Norton Internet Security.
Enjoy! Press the "Like button" at the top of this post if you like this deal and to share it with friends and family.