PayPal: Get 5% Cash Back on All Your Holiday Shopping (Until Dec 10)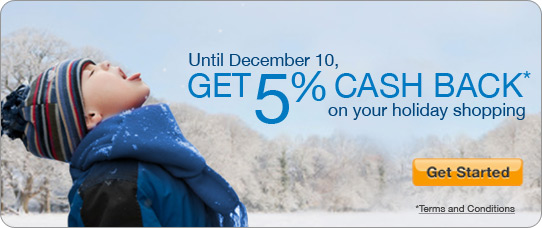 PayPal is featuring a terrific 'Holidays Made Happier' Cash Back promotion. You can get 5% cash back when shop online and use PayPal! Hurry, this offer ends December 10, 2012.
To take advantage of this offer, you'll need to go to PayPal's promotion page and register your email.
PayPal.com is one of the most popular and secure ways to pay for things online. Millions of websites (ie. eBay and Dell) accept PayPal.
If you have never used PayPal before, click here for more information about what they do.
Terms and conditions
Receive 5% cash back on your second purchase and each purchase thereafter through December 10, 2012 (excluding tax and shipping), when you register for the Holidays Made Happier cash back promotion and, make a first purchase from any participating Canada or U.S. merchant using PayPal as the payment method (the "Offer"). Offer begins on November 13, 2012 at 12:00:01am PT and ends December 10, 2012 at 11:59:59 PT ("Offer Period").

In order to receive this Offer you must 1) have a Canadian PayPal account in good standing, 2) receive an email directly from PayPal inviting you to participate in the Offer OR view a banner or marketing message on the PayPal site, 3) register for PayPal cash back rewards, when prompted to do so, using your PayPal primary email address or the email address that you will use to open a Canadian PayPal account, and 4) complete a qualifying purchase using PayPal. Your second purchase, and each purchase you make thereafter during the Offer Period, will qualify for the Offer. The maximum amount of cash back under this Offer is limited to $20.00 CAD per purchase, and a maximum amount of $200.00 CAD per PayPal account for the entire Offer Period. The cash back will be transferred into your PayPal account on one of the following dates; November 26, 2012, December 18, 2012 or January 30, 2012 based upon your transaction dates, so long as your account is in good standing at the time of transfer.

Excluded transactions from this Offer include, but are not limited to the following: gift certificate payments, gift card purchases, and automatic and/or recurring payments that you have scheduled. If the payment for any purchase is refunded or cancelled at any time, you are not eligible for the Offer. If the payment is refunded after you receive the cash back, PayPal will deduct the cash back amount from your account.
Click here to visit PayPal's website to register your email or for more details about this offer.
Enjoy! Press the "Like button" at the top of this post if you like this deal and to share it with friends and family.