Future Shop: Cyber Monday Sale – Door crashers and Save $10-$200 Promo Code (Nov 26)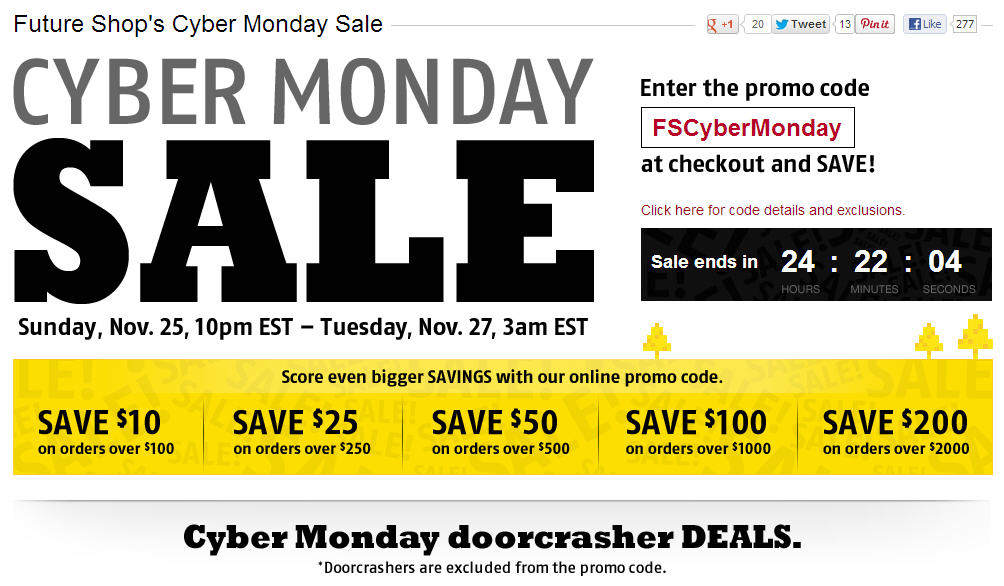 Future Shop's Cyber Monday sale has started and goes until Tuesday, November 27, 2012 at 3am EST.
They're featuring a bunch of great Cyber Monday doorcrasher deals.
If none of the door crashers interest you, you can also enter the online promo code FSCyberMonday at checkout and:
Save $10 on orders over $100
Save $25 on orders over 250
Save $50 on orders over $500
Save $100 on orders over $1000
Save $200 on orders over $2000
Doorcrashers are excluded from the promo code.
The sales are available online only. Future Shop is offering free shipping on orders over $20. Some items can be reserved for in-store pickup.
Click here to shop Future Shop's Cyber Monday now or for more details about the sale.
Enjoy! Press the "Like button" at the top of this post if you like this deal and to share it with friends and family.