Entertainment Books: $7 Off All Coupon Books + Free Shipping (Until Nov 11)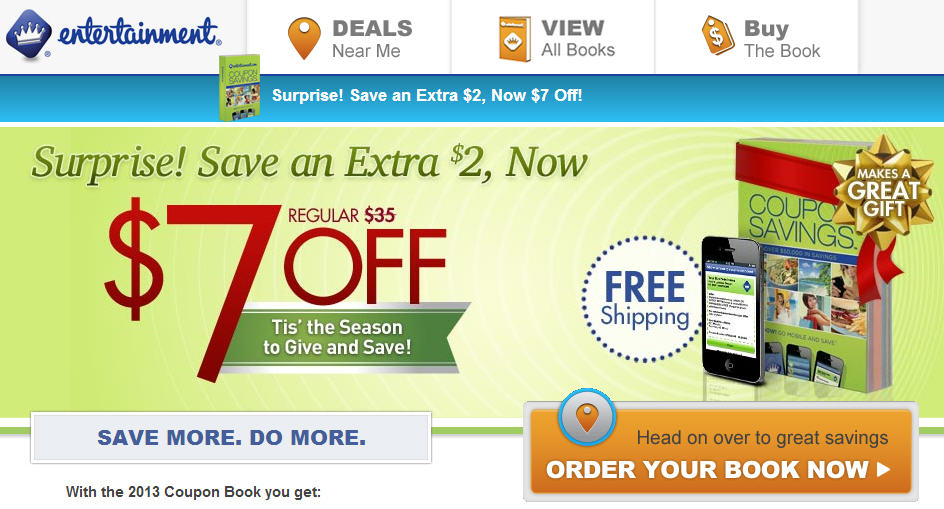 For a limited time, all 2013 Entertainment Coupon Books are $7 Off ($5 + extra $2) plus Free Shipping! Tis' the Season to Give and Save. These would make great gifts during the holidays.
I've bought Entertainment's coupon book the last 9 years or so and have saved a lot of money thanks to all the great coupons. There's a ton of fantastic 'Buy 1, Get 1 Free Coupons' to popular and well known local businesses. I usually buy a book at the start of the year and then another book near the end of the season when they're on sale.
With the 2013 Coupon Books you get:
Great NEW local and national coupons
Exclusive buy one, get one free and up to 50% off coupons
Coupons valid now and good through November 1, 2013
Access to mobile coupons with the Entertainment Mobile App
If you're not familiar with the coupon book, here's a description about it on their website:
For nearly 50 years, Entertainment has been helping people save in tough economic times with the big Entertainment coupon book. Today, more than ever, people realize that the premium 50% off and 2-for-1 discount coupons found in the book help them save on everyday essentials right in their neighborhood including: Dining, Shopping, Movie Tickets, Groceries, Services, Travel, Attractions, Car Care and Home Furnishings.

Plus, with each book purchase you get online access to hundreds of additional local printable coupons and incredible online shopping discounts not found in the book. The amount of valuable discount coupons available will amaze you!
Click here to purchase your 2013 Entertainment Book now or for more information about this sale.
Press the "Like button" at the top of this post if you like this deal.