Air Canada: Big Worldwide Seat Sale (Book by Jan 9)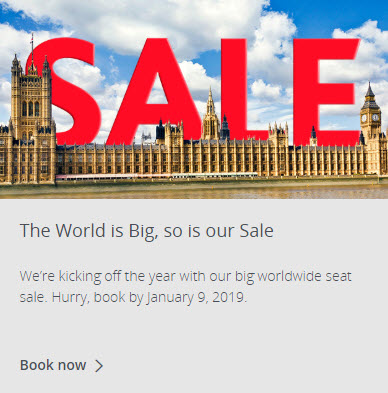 Air Canada is having a Big Worldwide Seat Sale.
They're kicking off the year with their big worldwide seat sale. With so many destinations to choose from, it's only a question of where to go!
Don't miss your chance to save. Book by January 9, 2019.
Book by: 8-JAN, 2019 (11:59 pm MDT)
Travel dates: 16-JAN, 2019 – 26-JUN, 2019 (Tue, Wed, Thu and Sat)
Advance purchase: Purchase at least 14 days prior to your departure date
Travel Tips:
Click here to visit AirCanada.com to book a flight now or for more details.