A&W: New Printable Coupons!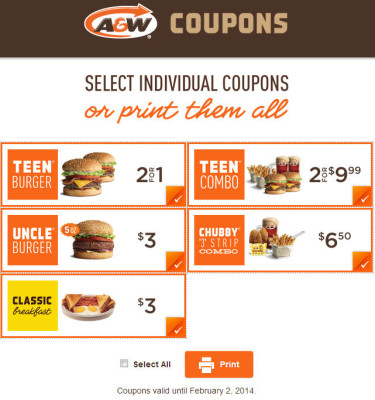 A&W just released a new batch of printable coupons! You can visit www.awcoupon.ca and print as many coupons as you want! The coupons are valid now until February 2, 2014. You can either print the coupons or display them on your smartphone.
Here's a sample of the coupons:
Teen Burger 2 for 1
Teen Combo 2 for $9.99
Uncle Burger for $3
Chubby 3 strip Combo for $6.50
Classic Breakfast for $3
McDonald's also released a bunch of new printable coupons as well. I blogged about it yesterday.
Click here to visit A&W's website to print the coupons.
Enjoy the savings!